Colombian Gerson David Pinto Chica came to Kaunas from Kibaha in Tanzania, where his family currently lives. He admits that moving across continents at a young age had made him rather robust and open to change. "I had to learn English, and Swahili and adapt to a different culture, but it was useful as now I don't feel lonely when I travel", says Gerson, currently studying mechatronics at Kaunas University of Technology (KTU).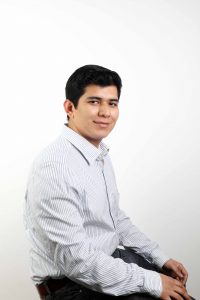 Before settling on KTU, Gerson Pinto Chica made extensive research online. Although far away from both of his home countries, Lithuania was not unheard of to him.
"Maybe Lithuanians don't know this, but your country is well known in the American continent, especially in Colombia. Antanas Mockus, a Lithuanian who was a mayor of Bogota, made it rather popular. Keep in mind, that with a population of ten million people, Bogota is three times the size of Lithuania!" says Gerson.
He is impressed by the growth, efficiency and beauty of Lithuania. Also, it is an affordable European country and this fact could add to its popularity as a study destination.
Fascinated by science, initially, Gerson considered studying mathematics. However, after reading through the curriculums of different study programmes, he chose BSc Mechatronics as it offers hands-on experience and a broad subject range, including robotics, mechanical engineering, electronics and computer engineering.
"While studying mechatronics, I acquire different skills, such as developing microcontrollers or sensors. Also, I can work on many small projects and I enjoy that. For example, now we are doing research and designing lighting for the Lights Festival, which will take place on the university campus in autumn. I can promise you, it will be a very big thing," says a KTU student.
Not getting Lithuanian jokes is part of the fun
Although Kaunas is around 12 thousand kilometres away from his current home, Gerson says he never regretted his study choice. In addition to learning new skills, Gerson also met new interesting people who made him feel welcome in the new place. In Kaunas, the Colombian student's friends are mainly Lithuanians and people from other South American countries – he admits missing meeting them while living in Africa.
In his class, Lithuanian and international students are studying together. Gerson enjoys that because in such a way he gets to understand Lithuania and its people better.
"Quite often, if the international students don't get a chance to communicate with the locals, they can feel excluded from the full experience of living here. In my class, it's different – we are talking, joke together. Of course, I don't always get the jokes as they are cultural, but that's part of the fun!" says a KTU student from Colombia.
Although quite a few African students are studying in the Faculty of Mechanical Engineering and Design, they are from different regions than him.
"Africa is a continent full of different countries, a multitude of tribes, which all have different traditions, speak different languages, have different cultural beliefs… In Tanzania alone, there are more than 124 languages spoken – basically, every 40 kilometres you have to change the language," explains Pinto Chica, adding that speaking English and Swahili helps a lot.
Volunteering and playing piano in free time
Since arriving in Kaunas, he has never visited home and admits missing his parents, his six cats and two dogs, and food. However, apart from the weather, Gerson feels that Lithuania is not very different from Colombia – the traditions, culture, and holidays remind him of home. Besides, he believes that even in the same culture people can be very different.
"For example, in Colombia's different regions people are not the same – in the North they are happy all the time, having a lot of festivals, and carnivals, whereas, those living in the central part are quieter, more reserved, just like in Europe," says KTU student from Colombia.
He finds the strength of the Lithuanian character inspiring – despite the difficult history, people here are trying to be happy, continuing to work and create something new every day. He expects the same respect from Lithuanians and enjoys it when they remember famous football players or writers that are born in Colombia. By the way, Gerson enjoys artistic expression himself – he plays piano, guitar and drums.
"In our dormitory, we have a piano upstairs, also we have some guitars. Sometimes, we gather together with friends to play," says a KTU mechatronics student who has just finished his second year of studies.
Also, in his free time, Gerson is volunteering for the Red Cross – at least once a week he goes to their office and does a job that is required.
"After the war against Ukraine has started, there was a surge of volunteers willing to help. However, I enrolled to the Red Cross as soon as I came to Lithuania. My parents are happy I am volunteering, but I'm not doing this for them – I do this because I like it," says Pinto Chica.
Being far from home one becomes more self-aware
As a KTU Ambassador, he often talks to the students who consider joining the university. Gerson says that, although their doubts are understandable, it is always worth studying abroad. Based on his own experience, a KTU student says that being far from home makes you understand yourself better.
"Being in a new place means learning new things and meeting new people. KTU is perfect for that – it has not only engineering but also social, natural sciences, and architecture. Besides, Kaunas is a beautiful city – small, but there's everything you need," says Gerson.
He likes the fact that university accommodation is close to the city centre and that the city itself is rather compact – one can easily walk to the most important places. Kaunas, in his opinion, is developing a lot lately – especially as it is a European Capital of Culture in 2022.
While he is looking forward to visiting his family in Tanzania this summer, Gerson says that coming 12 thousand kilometres to study in Kaunas was a great adventure.
"For me, this experience gave a lot – not only did I learn new skills but also met new people with whom I connect through various activities," says Gerson Pinto Chica, a bachelor's student of mechatronics.