"I look at my future in Lithuania with bright eyes," says Carlos Sosa Henríquez from Gran Canaria, studying aeronautical engineering master's at Kaunas University of Technology. From his young years, Carlos was interested in "how these large things can fly". After graduating with his first degree at home, he chose KTU in Lithuania, a country where the aeronautical engineering sector is rapidly growing.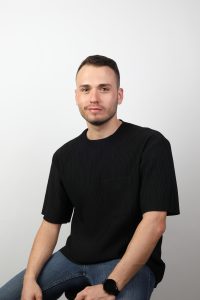 Carlos is honest about his first experience of Kaunas weather – it is very different from that at home, to say the least. Also, the difference in daylight length during the winter and summer months is something that he needed to adapt to. However, choosing KTU for studying abroad is an adventure he does not regret.
"After graduating from mechanical engineering in Spain I contacted many universities in Europe looking for a master's in aeronautical engineering. From the first contact, KTU seemed the most professional in the way they were communicating with international applicants. I said: ok, at least I will feel comfortable here," says Carlos remembering his first acquaintance with the University.
His first good impression became even better after he analysed the aeronautical engineering study programme. The fact, that as a European citizen he did not need to pay tuition fees sealed the deal. Additionally, Carlos felt motivated by the extensive range of scholarships and grants that KTU offers.
"It was a perfect choice from all points of view," says Sosa Henríquez today, nearing the end of his first master's study year at KTU.
Studying aircraft: a childhood dream that came true
As far as he remembers himself, Carlos always wanted to study aeronautic engineering.
"From a small age, I was very interested in how these big things can fly – this triggered my imagination. Also, I like doing things on my own, and I am into science," Sosa Henríquez explains his choice of MSc Aeronautical Engineering study programme.
However, as he wanted to be a hundred per cent sure, for his undergraduate studies Carlos chose mechanical engineering – a more generic engineering field. In his final year, a young engineer found an internship, and after finishing it he got a job in a Spanish aeronautical company. While continuing to work for them remotely, a KTU student from Spain is backing his practical skills with theoretical knowledge in Kaunas.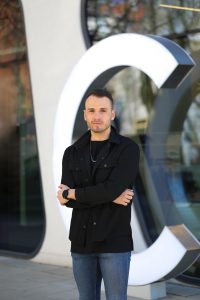 "In comparison to my university at home, KTU has a more practical, more American, if you like, approach to studies. At KTU, we have many lecturers who are also working in the industry and are providing the business approach and know-how. Together with more theoretical classes, we have a synergy of theory and practice in this course," says Carlos, who for his excellent study results in the first semester was awarded a Talent Scholarship from KTU.
The hard-working student has already had talks with a global aircraft maintenance company and a design company about the possibility to cooperate on his final degree project. For this, he thinks he may also travel to France, where the main European aeronautical industry centres are based, in the final study semester. However, these plans are still in their initial stage.
"So far, I am doing the things I like most in the study and work terms, so I can't complain. I also enjoy my free time – going out during weekends and committing to my daily workout routine," says Carlos, a KTU student from Spain.
Missing the sun is the main issue
Travelling to KTU, Lithuania was not the first Carlos experience of studying abroad. During his bachelor's he went for Erasmus study exchange to a university in Slovenia.
"I am interested in how things work in different countries. As an Erasmus student, I liked the experience of being in an environment, which is different," says Sosa Henríquez.
This was also one of the reasons why I chose KTU – everybody knows that the sector of aeronautical engineering in Lithuania is growing.
According to him, Lithuania is quite similar to Slovenia; however, life in Gran Canaria, his home island is very different from them both.
"I live by the ocean – I can see it through my windows, and here you have to drive for a couple of hours to get to the beach! Also, I miss the sun. In different seasons here, the presence of the sun can vary up to four hours per day, whereas back home we have a very stable amount of daylight. I really needed to get used to that," says Carlos.
However, a KTU student from Spain is assuring that differences can be expected when one compares the very south of Europe to its north. It is just something that one has to get used to. For example, he already does not mind the cold so much – he just dresses in more layers. In addition, Carlos says that he even tried all Lithuanian food.
"I am not a fan of cepelinai, but I like šaltibarščiai and potato pancakes. These two are my favourites," smiles Carlos.
He enjoys living in Kaunas, which is not too large, yet has everything that one could expect from a European city. According to Carlos, Kaunas is very comfortable to live in, cosy and green. He is looking forward to exploring the city by cycling its many bike paths.
Erasmus students have different lifestyle
As he studies with an international group, Carlos is mainly communicating with Turkish, not Lithuanian students. Together with his friends, he is planning to travel around Lithuania and to the neighbouring countries this summer.
"I'm up for getting more into Lithuanian culture and community. Partly because of that, I signed up to a sports club in the city centre – by training together with others, through casual conversations I expect to get more connected to people living here," says a KTU student from Spain.
He isn't interested in spending much time with other Spanish students, though.
"I guess, we have different lifestyles… They are mostly Erasmus students, and as I have been one, I know the proportion of time they devote to studying and to partying. At this point, my plans are different," says Carlos, reminding that next to his studies, he is also working.
I am not a fan of cepelinai, but I like šaltibarščiai and potato pancakes. These two are my favourites.
His job in an aeronautical company in Spain involves working with deliveries – buying and selling aircraft. Carlos does not mind working remotely, as he feels that Lithuania is a perfect place to be studying aeronautical engineering right now.
"This was also one of the reasons why I chose KTU – everybody knows that the sector of aeronautical engineering in Lithuania is growing. For example, there were plans to open the largest maintenance centre in Europe for commercial planes in Šiauliai. This means a lot of money and development," says KTU aeronautical engineering student.
However, Carlos is not yet sure what path he will choose after his studies – he might aim for a PhD and become a researcher or dig into a professional career as an aeronautical engineer. In either case, the student says that he will maintain connections with Lithuania.
"I trust the Lithuanian project, and look at my future here with bright eyes," says Carlos Sosa Henríquez, KTU aeronautical engineering student from Gran Canaria, Spain.
____
Are you from Europe? If so, you can study in Lithuania with state funding. Choose your study programme and apply for funding. Admissions are open!