Kaunas University of Technology (KTU) drone racing team has debuted in the international competition in Gdynia, Poland last weekend. KTU team, which is the only academic drone racing team in the country, was also the only Lithuanian team participating in the race.
KTU team DrON, consisting of students Arminas Volskis, Arvydas Tomkus and Mantas Žitkus, were competing against 60 drone racers from Poland, Latvia, Estonia, Germany, Italy, Lithuania and Russia.
Among the participants, Lithuanians were in the middle: Volskis has completed the race in the 23rd, Žitkus – in the 24th and Tomkus – in the 40th position.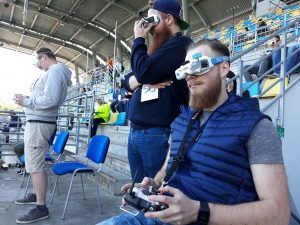 "We didn't have enough time to train. According to the format of this race, we flew only 5 times in 2 days, therefore, there was not enough time to get acquainted with the racecourse", says Tomkus.
KTU team was the only one representing Lithuania in the competition in Poland, and it is the first university team in the country. According to DrON members, drone sport is not as popular in Lithuania, as it is in the neighbouring Latvia or Poland. After making a debut in the international competition in Gdynia, the KTU team is getting ready and hoping to achieve better results in Riga, Ventspils and Vilnius races later this year.
Official sport since 2016
The World Air Sports Federation acknowledged drone racing as official sport in 2016; this sport has been included in World Air Games 2020 and World Games 2021, which is being organised every four years for the sports excluded from the Olympic Games programme.
KTU team DrOn is training up to 5 times a week. If the weather is allowing, there might be several flights a day. For the competition, the pilots make drones themselves – racing drones do not have any additional details, such as automatic height and direction monitoring, automatic return systems, and the pilots have to control their drones themselves. The racing drone has to be as light as possible – usually they weigh around 500 grams.
According to the KTU team members, if you want to try drone piloting, the minimum investment would be around 600 euros. For racing,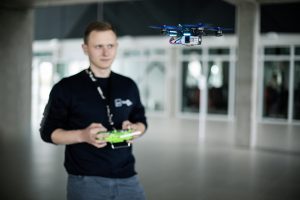 you would need to tune up the drone even more.
"However, this sport is not as expensive, as, for example, car racing", says Žitkus.
Drone racing is rather different from taking drone pictures in lazy Sunday afternoon, when one can relax while admiring beautiful views on their tablet or phone screen. In racing, drones are being controlled by radio waves and the pilot sees the drone view through FPV (first person view) goggles.
"It's popular to say that the pilot is feeling as if he or she was sitting inside of the drone – you can see what the drone "sees", and sometimes – even hear", says Volskis, the founder of KTU team.
Supported by the University
According to Arminas Volskis, although the idea to establish the KTU drone racing team was floating for some time, it was realised only in the beginning of this year, when the team got support from the KTU Faculty of Mechanical Engineering and Design (FMED).
"After a short conversation with the Dean, we shook hands and it became clear that we will have the honour to represent Kaunas University of Technology in this year's races", says Volskis.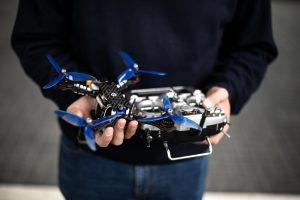 According to the Dean of KTU FMED Andrius Vilkauskas, drone racing is a perfect way to demonstrate your engineering creativity and a means of self-realisation for the students of various study programmes.
"Internal motivation is the main driving force in this and in any other sport. As this is also a very important quality for every scientist, I regard the preparation and participation in the race as a certain training, to cultivate the joy of discoveries", says Vilkauskas.
Drones are being used in aviation, transport sector's industries, their various applications are related to defence technologies. Various sensors and other devices built in drones are connecting robotics, electronics, informatics and precise mechanics, they employ artificial intellect and image recognition technologies.
"To build a drone, one needs to understand processing and treatment technologies for metal, plastic and composite materials. This is a multidisciplinary area of activity, which requires knowledge and competences from various fields", says the Dean.