Students that choose technological sciences are welcome in many companies, including space technology and space research centres in Lithuania and abroad. In the contemporary world, even startups are capable to fulfil great ideas. However, every new project needs someone to believe and to invest in it. Dr Vladas Lašas, Kaunas University of Technology (KTU) alumni and lecturer is a business angel of a very important European-British space programme – startup Orbex.
"We have to change how we think: we are not too small, nor too weak to become a country, which is strong in space technologies. Today, many believe that it is possible to create something interesting in Lithuania as well", says Lašas, who is also a co-founder of fast delivery company Skubios Siuntos, a co-owner of a high-tech company Elinta, and the Chairman of the Board of LitBAN, Lithuanian business angels network.
Tell us more about your project Orbex.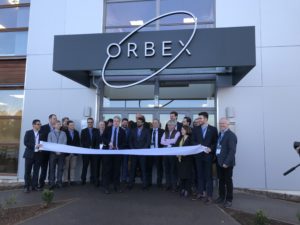 A startup Orbex is a private, low-cost orbital launch services company, serving the needs of the small satellite (up to 200 kg) industry. We are one of the space programme leaders in Europe and the UK. I joined this very ambitious space project as a business angel five years ago – Orbex was founded with like-minded people from Great Britain, Germany and Denmark.
We started with a small amount of money, and today we have already secured over EUR 40 million of public and private funding for the development of orbital space launch systems. Last year, we opened a technology centre and a rocket factory in Scotland and together with another company, Lockheed Martin, we have been appointed by the British government to develop a spaceport in Scotland. The Scottish Government has just recently approved the project for developing a space hub, which will be constructed near Melness on the northern coast of Scotland.
Great Britain has a lot of experience in developing space technologies, and almost the entire space technology ecosystem, they possess great ambitions and vision for the future. What was lacking was the possibility to launch satellites to space with the British company rocket from the spaceport on the Great Britain territory. We plan to solve this problem and the first launch should be next year.
I hope to take part in the launch but also to invite the KTU students, who are passionate about space technology, to watch it. This way "dream teams" are formed. The first students from Lithuania to go to NASA for an internship – Vytenis Buzas and Laurynas Mačiulis – returned to Lithuania and founded a space technology company Nanoavionics. The company today develops small satellites for customers around the world.
Could this be useful for our engineers as well?
Of course. Talented engineers who create space technologies can boost the Lithuanian economy. We can already see a great interest in space technologies and a number of new technology projects being developed. Have you seen the Starlink satellite train in the sky? This company can improve the access of the internet worldwide; the internet will be fast, cheap and safe, even in rural areas. We must also take part in these projects and find new niches to create interesting and valuable products and services.
There are many perspectives for students of technological sciences today. Many KTU students have already been to internships at NASA and European Space Agency – ESA. They have excellent experience and connections to build their startup teams, to look for business angels while also attract investment. If you have an excellent team and ideas, there are no territorial boundaries.
For instance, my daughter Dalia Lašaitė manages CGtrader startup – the biggest 3D model trading platform in the world that brought together designers, architects and other creators. They were the first in the Baltics to attract investment from Intel Capital. There are even space-related jobs in this company: if a student cannot take part in Starship spaceship creation with TinkerCAD or some other programme, they can create SpaceX or 3D model of their own and make money by selling it on CGTrader.com to virtual reality and game developers.
Why did you become a business angel?
Business angels are the first advisors, mentors, and investors. Not only it is an interesting activity, but also meaningful and lucrative. After all, Silicon Valley's success story and wealth first came from business angel investments that later grew into huge venture capital companies.
Of course, you need to be patient, give it some time and understand the risk, because not all startups succeed. However, during the process you gain a lot: you can closely observe how innovations are created, to take part in the process, to advise while also learning new things yourself. You feel like an eternal student. I am glad that we already have a network of business angels; we created LitBAN Association of Business Angels where I am the Chairman of the Board. The number of startups and business angels in Lithuania is growing. Junior Achievement Lithuania encourages and teaches pupils to create their startups in school. It is a precious experience for young people, regardless of their future choices.
And why such interest in space?
50 years ago, on holiday at my grandparents in Anykščiai, Lithuania, I saw a broadcast about the first landing on the Moon. I still have the book that I got on my birthday called Journey to Other Planets. It visually shows how space-ships work and what do they need for long-range flights in space. That book became one of my favourites. In general, space technologies stimulate curiosity, the desire to explore, to achieve more while also being a part of the latest discoveries. In the past, people were discovering new lands, and today the boundaries expanded to space.
The number of people even those who are not involved in space technology, who watch and admire SpaceX and other space technology companies, is impressive. After all, the day when people will have a permanent base in the Moon when taking a flight to space will be similar to travelling by plane, is close.
Whether we will be just tourists or developers, everything depends on us: how curious and active we will be, how much we will want to learn. I am talking not only about technology but also about other subjects, that any educated person needs.
Interest in space probably led you to study engineering?
Fascination with space boosts the interest in technology. I liked electronics since childhood. I learned a lot from my father, who was an electronics engineer and a lecturer. Together we repaired cars in the garage and this job requires a lot of engineering thinking. I tried new things, learned while playing. When I was still at school, I replaced the doorbell button with a touch sensor, so common today – the guests didn't understand how to use it.
Engineering thinking is useful in other areas as well. For instance, an express delivery business that I created with my friends does not have a direct connection with electronics but studying technology and, later, experience in academia helped me to come up with rational, logic and creative solutions.
Do you see many opportunities for space research in Lithuania?
We have to change how we think: we are not too small, nor weak to become a country, which can set foot in space. By looking up, by pursuing further goals we can accomplish great things in other areas as well. Today, many believe that it is possible to create interesting things in Lithuania.
An important scientific accomplishment was the creation and the launch of two Lithuanian nanosatellites. The enthusiastic teams of KTU and Vilnius University students and lecturers together with NASA proved that Lithuania can be visible in the space industry. We have also invited influential guests from NASA. With one of its executives, Pete Worden, we are communicating to this day. All this led the decisions on state-level: since then, Lithuania has signed agreements that allow to participate and to start the accession process to the European Space Agency. Also, the Lithuanian Space Office has recently been opened.
The Bank of Lithuania issued a coin commemorating the 5th anniversary of Lithuanian satellites' launch. We now have commercial satellites under the development, Lithuanian scientists carry out a lot of space-related research while closely working with NASA and the European Space Agency. I am sure that there are many space-related opportunities for technology students.